Using Social Media for Community Involvement

One of the benefits of owning a small business is being able to really connect and give back to the community through your business. Community involvement can make a positive impact while also putting a positive light on your small business, gaining visibility to potential customers in return. But, how can these small businesses use social media to be socially relevant in their community?
A Case Study: Run-N-Tri Company
Run-N-Tri is a local business on the Mississippi Gulf Coast specializing in endurance sports (running, walking, and triathlons), with a product line of shoes, gear and apparel. Owners Dean Morrow, Kevin Goveia and Luke Davidson are dedicated to using their platform for giving back to the community through student scholarships, monthly benefits for local charities and bringing together the community for weekly fun runs. For the purpose of today's post, we'll focus on Run-N-Tri's Facebook use and how it helps the business stay involved with the community.
Open Dialogue with Community
I found it interesting that Run-N-Tri uses a public Facebook group to engage with people in the community. There are more than 3,000 members in the Run-N-Tri Community Facebook group who can post questions or comments on all things running and healthy living. "Being part of the Gulf Coast is a big part of why we started Run N Tri," The Run-N-Tri owners said, "By giving people the correct equipment and being available to answer beginners' questions, we help get people pointed in the right direction."
Publicize Community and Charity Events
When you're hosting events like  community fun runs, you want people to show up (novel idea, huh?). The best place to publicize these events is on a platform people are constantly browsing (i.e. Facebook). They use the platform to announce scholarships, charity events and they allow others to share information about charity runs in the area.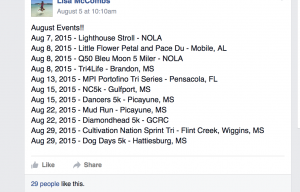 Run-N-Tri owners know the benefits of using social media to get involved in the community. "By using social media, we stay in touch with our customers constantly and in a timely manner," they said. "We are able to respond on social media within a few minutes. Today's society demands quick answers. Using social media allows us to do so."
---
This is the final blog post to our three-part series on small businesses and social media, but wipe those tears! You know the saying… "When one door closes, another door opens."  The Focus Group's Digital DIY program, a series of one-on-one training sessions designed to help you master digital marketing, is coming to an area near you!
See Our Work